12may(may 12)17:0014(may 14)17:00free your voice and body by chanting kundalini yoga mantras with Cornelia Kopp-Lesauvage17:00 - 17:00 (14)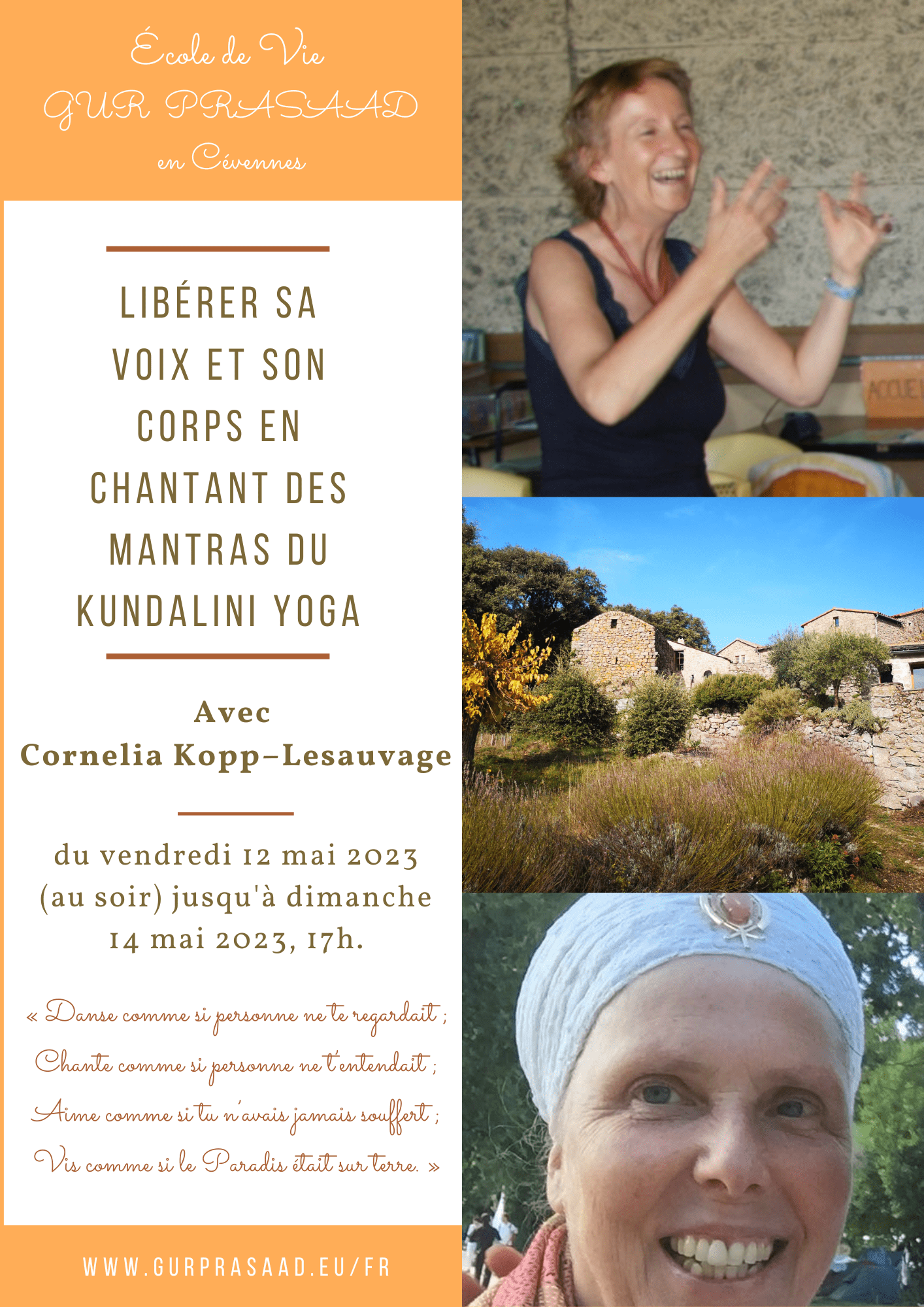 Event Details
I invite you to discover the pleasure of playing with his voice and exploring his unsuspected possibilities.
We will sing mantras from the Kundalini Yoga tradition and possibly other mantras and songs
simple in polyphony and canon. We'll cover "the song of the soul" and simple improvisations.

I will give you the necessary tools to pose your voice.
Those who wish can bring a song to "work on", to practice on.

" Dance like no one is watching you ;
Sing as if no one could hear you ;
Love like you've never been hurt ;
Live as if Heaven were on earth. »

Playing and improvising with our voice builds confidence and self-confidence. The voice and the body put us in
contact with our momentum of life, our emotions and our intuition and make us discover our inner richness.

No prior skills or experience are required.

In the early mornings we will practice sadhana; the daily practice of Kundalini Yoga and meditation

of this tradition for 2.5 hours, (5-7.30 a.m.) guided by Sat Atma Kaur.
Cornelia Kopp–Lesauvage: Born into a musical family in Germany,
I have been teaching music in different forms all my life.
I have followed numerous training courses in musical pedagogy (E. Willems, Orff), in
communication (communication process, transactional analysis, CNV), in
artistic expression (Roy Hart theatre) and in "art therapy" (Arthère school) and "
dance-therapy" (Schola Cantorum).
http://chant-art-therapie.e-monsite.com
The course will take place at the School of Life Gur Prasaad, in a traditional farmhouse in the
Gard. 2 accommodation options:
- In a room for 3 to 5 people each with a shower.
- Camping in your tent, or motorhome on the property.
We will share 3 delicious vegan meals a day.
Teaching prices: 120€
Food and accommodation in room: 100€ Camping: 70€
Total cost: 220€ (190€ camping) by registering and paying for the course
before April 15, 2023.
After April 15: €250 (€220 camping). If finances are a hindrance to
your participation, do not hesitate to contact us for a suitable arrangement.
Info &registration: contact.gurprasaad@gmail.com or 07-54320676 at Karan Shiva.
Time

12 (Friday) 17:00 - 14 (Sunday) 17:00