Teacher Level 1
Kundalini Yoga by Yogi Bhajan
Sat Atma Kaur Khalsa
is the lead trainer of this training. She is a student of Yogi Bhajan for almost 40 years. She also studies and teaches Sat Nam Rasayan, the healing art of the Kundalini yoga tradition.
Sat Atma is a passionate teacher and is committed to the growth of the students. The experience of the One in All is her guiding star. She loves singing, rocks, beautiful colours and the sunshine in the south of France.
Kirpal Singh
knowledgable, caring and funny, has been practising and teaching Kundalini Yoga since the 90's.
He is a Karam Kriya (Sacred Numerology) Trainer and Counselor. He is also a musician.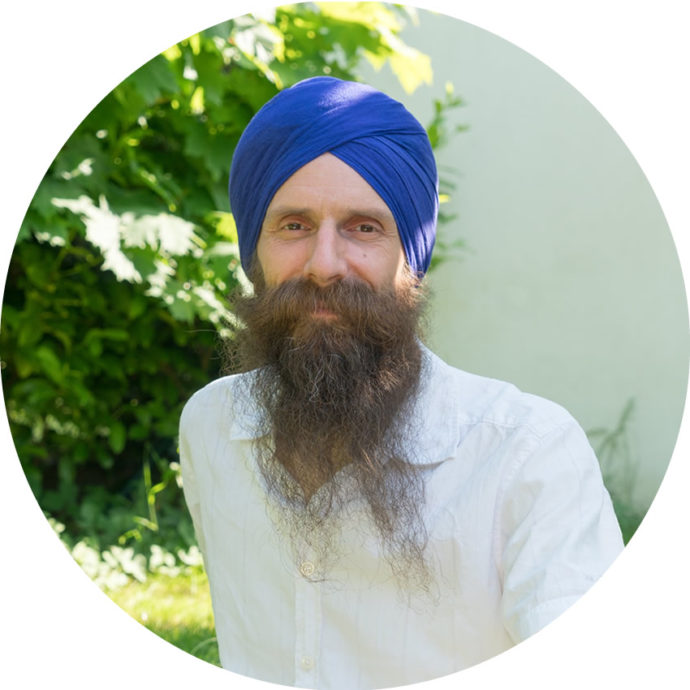 Karta Purkh Singh
upbeat, precise, clear in his values and priorities, specialised in postures.
He is is an inspiring teacher and musician.
Guru Jagat Kaur
gentle, intuitive and cosmic, has been teaching 40 years and more. She has founded the Yoga Doula training and the Post Natal Network Foundation.
She is a family therapist with lots of experience.
"Yoga is not going to make you great. Yoga is going to make you you!"
Yogi Bhajan
Kundalini Yoga
Kundalini Yoga by Yogi Bhajan is the yoga of awareness. It works on the alignment of body, mind and soul, bringing vibrant vitality and health, radiance, joy and the experience of you within you. Teaching Kundalini Yoga is based on experience, awareness, and the state of inner silence. Through the regular practice of the yoga & meditation and the connection with the tradition and the sangat, these qualities grow in you.
An important element in the training is your personal process of transformation. In this year you will find tools to connect with your higher self and to take bext step in living your personal destiny. So this training also serves those who want to go deeper into the teachings and their practice for their own development.
Personal support
Regularly exchanging experiences with your group and your buddy and during the weeks together with the whole group – your yoga journal – the SKYPE meetings in between the modules with Sat Atma and the whole group.